Additional hydraulic squeeze chute features available for your Salt Creek cattle working equipment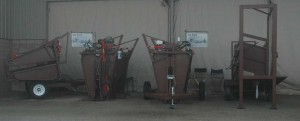 These additional squeeze chute features bring tremendous added value and functionality to your hydraulic cattle chute.
Get the most out of your cattle working equipment.  Integrate Salt Creek hydraulic squeeze chutes in your organization today.
View our Complete Price List to see current pricing on all the squeeze chute products and accessories listed here.
Standard, Magnum, and Portable hydraulic squeeze chutes are all available with any of the following cattle chute features:
Mugger – Patented Head Holder
Standard Squeeze Chute Trailer
Magnum Hydraulic Chute Trailer
Bottom Door, horizontally split
Extended Head Catch
Calf Ramp
Honda gas power Hydraulic Unit with Squeeze Chute & no Electric Unit
Honda Gas Power Hydraulic Unit w/out Squeeze Chute
4 removable Solid Side Panels
Escape Gate – Magnum Chute Only
Palpation Door – Magnum Chute Only
Hydraulic Adjustable Side Lower 8 inches