These additional hydraulic squeeze chute features are available for your Salt Creek cattle working equipment.
View our Complete Price List to see current pricing on all the squeeze chute products and accessories listed here.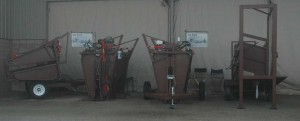 These additional squeeze chute features bring tremendous additional value and functionality to your hydraulic cattle chute.  Get the most out of your cattle working equipment with Salt Creek hydraulic squeeze chutes.
Standard, Magnum, and Portable hydraulic squeeze chutes are all available with any of the following cattle chute features: